Symposium: Next Level Gaming 2.0
Vrijdag 4 juni 2021 11:00 - Vrijdag 4 juni 2021 14:15 - 26 mensen gaan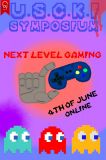 Hello gamers,
If you think you're not a gamer because you don't play games you're forgetting the most important game, namely the game of life. I want you to ask to think about 'AI and Games'. Do you think about Mario Bros or perhaps your computer opponent in a game of chess. Whatever came to your mind first you have to admit Games and AI are intrinsically connected.
Games and AI are everywhere. Not only in the games itself, but also in other AI related applications inspired by games. Take for example serious gaming or the AR/VR lenses in healthcare. Even chemistry and AI game algorithms can help each other.
To shed some light on this topic, the symposium committee of U.S.C.K.I. Incognito gathered some speakers to inform you about different topics. They will share their knowledge and you can share your own thoughts too. Don't miss this opportunity to talk to experts and have a discussion with fellow visitors. Our aim as committee is to make the symposium as interactive as possible.
Join, engage and enjoy. See you then!
Planning of the day:
10:45 Online walk-in
11:00 - 11:45 Hans Luyckx - Serious Gaming
12:00 - 12:45 Mike Preuss - Game AI algorithms in Chemistry
12:45 - 13:30 Break in Gather-Town
13:30 - 14:15 Joep Janssen - AR/VR games in healthcare
For more information, check out our website:
https://symposium.uscki.nl/index.html
Wie:

Symposium committee

Wat:

Symposium

Waar:

Microsoft Teams: 7sboo3x

Wanneer:

4th June 2021