[ABC] Presents: Going to DAIEC -SIGN UP REQUIRED USING FORMS IN THE DESCRIPTION-
Maandag 14 november 2022 18:00 - Maandag 14 november 2022 21:30 - 14 mensen gaan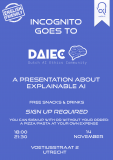 [abc] Presents: going to DAIEC.
-SIGN UP REQUIRED USING FORMS IN THE DESCRIPTION-
We will be going to a talk by the Dutch AI Ethics Community where Annebelle Olminkhof will take you in to the world of Explainable AI.
With free snacks and drinks included. If you are coming straight from work, studies or just hungry: in the signup forms you can fill in whether you want to order pizza/pasta from Vegitalian (at your own expense).
Please let us know if you'll be joining by signing up on the uscki.nl site and by filling in the following forms:
https://forms.gle/8zKCumsLoxJxXLoM9
Wie:

ABC

Wat:

DAIEC Talk & Drinks

Waar:

Voetiusstraat 2, Utrecht

Wanneer:

14 november

Kosten:

Own pizza/pasta or bring your own dinner, or have already eaten?