ABC presents: DAIEC Privacy and AI - SIGN UP IN THE DESCRIPTION -
Maandag 12 december 2022 18:00 - Maandag 12 december 2022 21:30 - 2 mensen gaan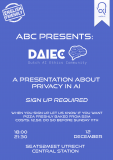 Hey everyone the last DAIEC event was a great succes, so the ABC is going to a new DAIEC event! Sign up here for this DAIEC event about privacy and AI! 👉
https://forms.gle/pK4gfJerHBjeZyNHA
Caroline and Freya from Roseman Labs will talk about the challenges of collaborating on sensitive data, and how new privacy technology can help to overcome these challenges. They will share two impact stories of applying a new technique called multi-party computation. This cryptographic method enable collaborating on data, without exposing the underlying data. We will open the discussion on new opportunities and potential risks that this technology could bring. If you could tap into all sensitive data sources in the world, what would you do?
Important information about the location
This time, DAIEC will host the event at Seats 2 Meet @ Utrecht Central Station! It's a very cool location, and drinks, snacks & pizza are available through there. If you want to have dinner after a long day of work/studies, you can order a S2M homemade pizza for only 12,50 euros!
Drinks and snacks are also available there, for only 8,50 per person.
This includes bio wine, bio beer, alcohol free beer and other drinks (for example Gingerbeer), bio soda, Spa red and Cola. A snack is included. Coffee, tea and water are free.
Please let DAIEC know if you are interested in pizza and drinks in the form, so that the location can buy enough ingredients beforehand.
Wie:

Everyone

Wat:

ABC presents: DAIEC Privacy in AI

Waar:

Seats2Meet Utrecht Central Station, event space "Transform", Moreelsepark 65

Wanneer:

12 December

Kosten:

Your own pizza and drinks