[ABC] SnaCKI by Ashwin
Woensdag 1 maart 2023 17:00 - Woensdag 1 maart 2023 19:00 - 7 mensen gaan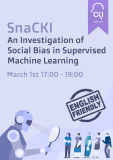 Come join us at the Sna
a
by Ashwin on Social Bias in Supervised Machine Learning. We will listen to his interesting thesis subject while enjoying some snacks on March 1st from 17:00 till 19:00. We might be biased, but it will be a great success!
----------------------------------------------
An Investigation of Social Bias in Supervised Machine Learning.
By Ashwin van Gool
Machine learning has opened up possibilities that seemed impossible only decades ago, and its potential applications are deemed to be of unrivaled magnitude. However, accelerated development and rapid societal integration of machine learning over recent years has left insufficient time for considerations of widespread reliance on these techniques with regards to social and societal consequences. Yet, an increasing reliance on these techniques means that any risks with regards safety and fairness should be kept to a minimum.
Social bias encompasses systemic, discriminatory deviations from core societal values within applied systems utilizing machine learning, and is a particularly complex, multi-faceted problem which ties deeply into both data science and philosophy. Such bias might aid in the maintenance and advancement of social injustice and inequality of opportunity.
In this interactive talk, which centralizes around the question "What is bias in supervised machine learning, and how does it occur?", an investigation into bias in supervised machine learning is provided, assessing its facilitating role in societal injustice, identifying root causes and discussing potential avenues towards the minimization of its impact.
Wie:

ABC

Wat:

SnaCKI by Ashwin

Waar:

Diningroom at Drift 27

Wanneer:

March 1st

Kosten:

Free!